Biography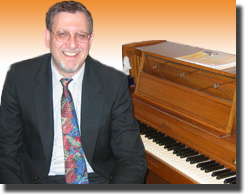 It was time for something different.

After more than twenty years in the computer industry, Elliot was tired. Tired of tiny cubicles, meetings that dragged on for hours, unrealistic deadlines and the constant worry over who his next client would be. So, following Joseph Campbell's admonition, "Follow your bliss", Elliot decided to turn what was then his part-time hobby into a viable business.

Buoyed by positive comments from friends, neighbors and concert attendees, he established an inexpensive concert series for senior centers, nursing homes and assisted living facilities. Music by Elliot (aka "Music for Seniors)" has been very successful and in just a couple of years, Elliot has put on hundreds of these shows. What makes his shows special is the direct connection he makes with his audience. He doesn't just play for them, but also tries to get to know them as individuals, their favorite songs, etc.

Elliot was born in the Bronx, New York, but his family soon moved to the suburbs and he spent most of his youth in Island Park, a small town on the south shore of Long Island. He graduated from Michigan State University in 1979 with Bachelor of Science degree in Public Affairs Management, got a job in New York City (just a couple blocks away from what later became ground-zero), and in 1984 moved to California. In 1988, he started his own consulting company, Multiversal Enterprises, Inc.

For more than twenty years, Multiversal has provided services to corporations in such areas as database administration, data reporting, analysis and integration, applications programming, software release management, systems programming and technical support. In 2006, Multiversal expanded to also offer inexpensive support and repair services for a different group of customers - residential homeowners and renters. Multiversal is one of several community-focused companies that donate a percentage of their sales or profits to local schools and other charities. Need to set up a home network, remove viruses or spyware, install a new hard drive, convert your CDs to mp3? Call Multiversal...


Elliot is a former Director of Young At Heart Project, a non-profit that sends professional musicians to entertain at senior facilities and which currently puts on nearly 1,000 shows a year in just the Santa Clara, Santa Cruz and Monterey County areas. One of Elliot's goals is to provide a similar service to smaller facilities that have limited budgets.


He is also the originator of the "Candy for the Mind" project, which over the last dozen years has given out over a thousand free books on Halloween to children in the Blossom Valley/Edenvale part of San Jose.


Elliot is divorced with no children and has not totally given up on the idea of getting married again.


Copyright 2004-2009 | musicbyelliot.com | All Rights Reserved.